Do you want to:
Have your book published professionally, completely in YOUR name?
Avoid the stigma associated with self-publishing "companies" that comes with
publishing under their names? (Many bookstores block books from these companies.)
Have a personal one-on-one coach who will assess your writing and publishing goals?
Then the I am Published!™ Platinum program is for YOU!
This is NOT a subsidy/vanity press. We will help YOU get set up as a true self-publisher, handle all your registrations in YOUR name, and give you tools needed to maintain your publishing company.
The I am Published!™ Platinum Program will give you:
Up to 5 HOURS of one-on-one coaching sessions throughout your book's editing, design, and publishing process. ($1250 Value)


Our coaches handling ISBN registrations, copyright registrations, LCCN, printer setup and distribution - all in YOUR name. ($675 Value)


A professional cover design and interior layout through our parent company, Imagine! Studios. ($1120 Value)


Up to 3 "tweaks" or revisions to your book's cover and interior, plus uploading changes to the printer, FREE. ($500 Value)


A 50% discount on any editing services, should you choose to have our editors copyedit your book. (approx. $800 Value)


A custom logo for your publishing arm or new company. ($1500 Value)


A professionally designed basic publisher website, with information about your publishing house, your book(s), and direct ordering to Amazon.com. Click here for a sample. ($1300 Value)


Everything DONE FOR YOU. But retained in YOUR name. (Priceless)


The I am Published!™ Kit. ($495 Value)

All for LESS than what a vanity press will cost you! And without the stigma of using one!
So how much is this going to cost me?
ONLY $5,997 $3,997 for a LIMITED TIME!
(Approx. $7,000 VALUE)
But only 5 people are accepted at a time!
(2 spots are open)

*Payment plans available. Contact us for details.
Meet your coach: Kristen Eckstein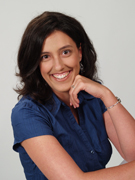 For the past 5 years, Kristen has been the guide for over 20 authors through the process of publishing their first book. Several of those authors have gone on to publish subsequent books, without the need to go through the program again. She manages an independent press, Imagine! Books, and has been through the publishing process herself 4 times. Her casual, relaxed style will have you laughing and enjoying your workshop and coaching sessions, while teaching you valuable tools about publishing, marketing, and the publishing industry. She strives to answer all your questions as thoroughly as possible and keeps the atmosphere fun and exciting.
Due to the time constraints with this program, we can only accept 5 people at a time.
Once one person graduates, the opening will be extended to the first person on the waiting list.
This is one of the best investments you can make in your future.
Plus - It's Guaranteed!
Not only are we offering the great value of the Platinum I am Published!™ Program and the same bonuses, but we also guarantee that this program will enable you to get your book into physical form, in your hands. If you are unsatisfied with the program, you may return your workshop or course materials within 30 days of purchase and receive a full refund. (subject terms and conditions)
It's risk-free! So what are you waiting for?
P.S. Are you ready to feel a book in your hands, see your name on the cover,
your dream come true, and add instant credibility to your name and/or business?